American Flag Blanket
SPECIAL OFFER EXPIRES IN:
"God Bless America!"   

(FREE Shipping Worldwide)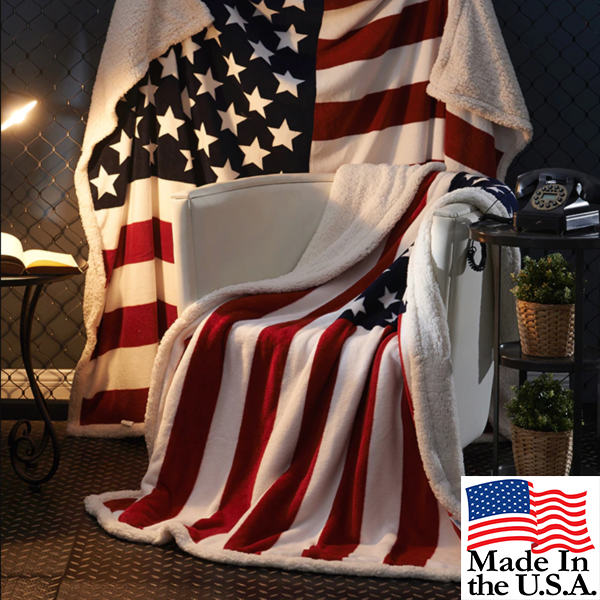 Dual Sided Thick Super Soft USA Flag  Blanket
This Beautiful Blanket is perfect for any True American!
Beautifully handmade, will keep you warm while brightening up any home!
Everyone in the family deserves to show-off their love for America with their own American Flag Blanket!
100% Money Back Guarantee!
Are You Proud To Be An American?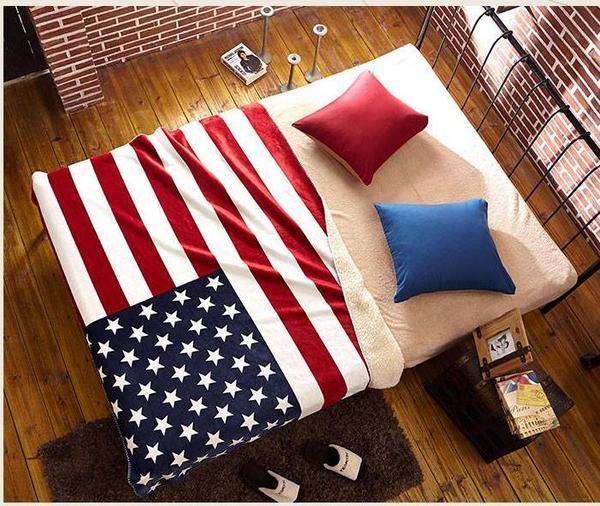 Super Soft Feeling
iCandy Dual Sided Super Soft Blanket with Fleece Face and Plush Sherpa reverse offers you different senses of softness to improve your sleep with one side of smooth and fluffy to the other - Bring you ultimate soft and warmth with a Fleece top and Sherpa reverse blanket.
Versatile
Snuggling on your couch with plush and warm iCandy Sherpa Fleece Blankets to enjoy family happy hours while watching favorite TV shows - Perfect for indoor and outdoor use to provide consecutive warmth in chilly weather, especially for camping and picnics. A Perfect Gift for Men and Women; Vets or Moms/Dads of Vets, Veteran's Day, Flag Day, Fourth of July, Mother's and Father's Day; Christmas and New Year. The list could go on and on!
Easy Care
Neat stitches enhance strong connections at seams and better strength with the integrated outlook. Machine Washable: Wash separately in cold water; Tumble dry low; Our blanket gets softer with each wash.
Here's What Some Of Our 
Happy Customers 

Have Said About The Blanket!

I'd love to share a picture of this amazing blanket but my sweet little fur ball won't let me near it! She's decided of all the blankets in this house that's her favorite but we do cuddle together in it! I just love this blanket. Be patient it takes a bit to get to you but well worth the wait. Thank you!
Shop with us
today

and see a difference today!
The 100% No-Risk Promise
Order right now with confidence!
Try out our Double-Sided Sherpa American Flag Blanket out for 30 days and if it doesn't work for you, you'll get your money back! There's absolutely no-risk in giving it a try. No questions asked, you can get your money back!
SPECIAL OFFER EXPIRES IN:
txtcont:--:

Good Value

:|~|:txtblclass:--:ba-11709265:|~|:ttl5cont:--:
65% OFF!
:|~|:ttl5blclass:--:ba-11709284:|~|:ttl4cont:--:

$59.97

:|~|:ttl4blclass:--:ba-11709292:|~|:ttl3cont:--:

$185.99

:|~|:ttl3blclass:--:ba-11709289:|~|:ttl2cont:--:
1x Dual Sided Thick Super Soft USA Flag Blanket 
:|~|:ttl2blclass:--:ba-11709261:|~|:slctvrnt:--:28823214293056,28823214325824,29423509143651:|~|:shwqty:--:true:|~|:selclass:--:js-best-value-not-select:|~|:qty:--:1:|~|:prdurl:--:/cart:|~|:prdimgtp:--:variant:|~|:prdbtnltp:--:cart:|~|:prdbtnelt:--::|~|:prdbtncpt:--:BUY NOW!:|~|:prdbtnclass:--:zpa-button-padding-medium bcss-11709276:|~|:prdbtnalign:--:zpa-button-alignment-center:|~|:prdblclass:--:ba-11709276:|~|:lblvisattr:--:data-hidden-label:|~|:lbltxtcont:--:BEST VALUE:|~|:lblmdltxt:--::|~|:lblblclass:--:ba-11709272:|~|:imgimgattr:--:alt="" src="https://cdn05.zipify.com/ipHDm0Wkf7vinIHNwAg-ZQf_VvA=/fit-in/960x0/8c795fe5cc6e4eba8c89a31065fbd0b1/pic1.png" sizes="960px,830px,720px,590px,450px,220px" srcset="https://cdn05.zipify.com/mdzVknUYheLTV57qbHGRb1JVGvQ=/fit-in/220x0/8c795fe5cc6e4eba8c89a31065fbd0b1/pic1.png 220w, https://cdn05.zipify.com/n9fXRTgCLTVD5xD9t9UWMyrDric=/fit-in/450x0/8c795fe5cc6e4eba8c89a31065fbd0b1/pic1.png 450w, https://cdn05.zipify.com/5HisYDVaaizLIco_pbGt5KJubEY=/fit-in/590x0/8c795fe5cc6e4eba8c89a31065fbd0b1/pic1.png 590w, https://cdn05.zipify.com/svsC8y-Iv14Ma_oapKPgGv9VdE4=/fit-in/720x0/8c795fe5cc6e4eba8c89a31065fbd0b1/pic1.png 720w, https://cdn05.zipify.com/eLbTndyvBJskdrlwbQ4iqVRNyfc=/fit-in/830x0/8c795fe5cc6e4eba8c89a31065fbd0b1/pic1.png 830w, https://cdn05.zipify.com/ipHDm0Wkf7vinIHNwAg-ZQf_VvA=/fit-in/960x0/8c795fe5cc6e4eba8c89a31065fbd0b1/pic1.png 960w":|~|:imgblclass:--:zpa-mobile-align--center zpa-align--center ba-11709259:|~|:img2blclass:--:zpa-mobile-align--center zpa-align--center ba-11709271:|~|:img2attr:--:alt="" src="https://cdn05.zipify.com/6KT3ieKdKv0oY-Q_GJdTrjWO77E=/c4cbd859d90349908d9b96a3a73e3c8a/best_price_footer.jpg":|~|:handle:--:1x-dual-sided-thick-super-soft-usa-flag-blanket:|~|:dcrt2class:--:ba-11709294:|~|:dcrt1class:--:ba-11709283:|~|:crtmsgclass:--:pcma-11709276:|~|:bvuppclass:--:uca-11709272:|~|:bvprcsvclass:--:hidden mat-11709272:|~|:bvcrnrclass:--:hidden lat-11709272:|~|:brd2blclass:--:ba-11709280:|~|:brd1blclass:--:ba-11709281:|~|:addcrtmsg:--:Product has been added to cart
txtcont:--:

Great Value

:|~|:txtblclass:--:ba-11709264:|~|:ttl5cont:--:
 65% OFF
:|~|:ttl5blclass:--:ba-11709290:|~|:ttl4cont:--:

$112.97

:|~|:ttl4blclass:--:ba-11709291:|~|:ttl3cont:--:

336.99

:|~|:ttl3blclass:--:ba-11709288:|~|:ttl2cont:--:
2x Dual Sided Thick Super Soft USA Flag Blanket 
:|~|:ttl2blclass:--:ba-11709267:|~|:slctvrnt:--:29423396618339,29423396651107,29423403663459:|~|:shwqty:--:true:|~|:selclass:--:js-best-value-not-select:|~|:qty:--:1:|~|:prdurl:--:/cart:|~|:prdimgtp:--:variant:|~|:prdbtnltp:--:cart:|~|:prdbtnelt:--:_self:|~|:prdbtncpt:--:BUY NOW!:|~|:prdbtnclass:--:zpa-button-padding-medium bcss-11709262:|~|:prdbtnalign:--:zpa-button-alignment-center:|~|:prdblclass:--:ba-11709262:|~|:lblvisattr:--:data-hidden-label:|~|:lbltxtcont:--:BEST VALUE:|~|:lblmdltxt:--::|~|:lblblclass:--:ba-11709275:|~|:imgimgattr:--:alt="" src="https://cdn05.zipify.com/ALI2DUECFA6d_cLM3UX3u4WjqNI=/fit-in/960x0/cdccfa7bd8a74da7ba7004ad4f5c3539/2flag-2.png" sizes="960px,830px,720px,590px,450px,220px" srcset="https://cdn05.zipify.com/667agUHZ9uXoBYcMFJyWu126hcw=/fit-in/220x0/cdccfa7bd8a74da7ba7004ad4f5c3539/2flag-2.png 220w, https://cdn05.zipify.com/EAsMm-5jP7WH1jdHGj1VtWgMdYQ=/fit-in/450x0/cdccfa7bd8a74da7ba7004ad4f5c3539/2flag-2.png 450w, https://cdn05.zipify.com/AkTfSUxcap60wNou3Lyb2v_fFqk=/fit-in/590x0/cdccfa7bd8a74da7ba7004ad4f5c3539/2flag-2.png 590w, https://cdn05.zipify.com/YNaCxfBme35O5ueFXvD0E6hV9OU=/fit-in/720x0/cdccfa7bd8a74da7ba7004ad4f5c3539/2flag-2.png 720w, https://cdn05.zipify.com/gO0a1Uq7X_WgsSszZ70zYwaZ9ME=/fit-in/830x0/cdccfa7bd8a74da7ba7004ad4f5c3539/2flag-2.png 830w, https://cdn05.zipify.com/ALI2DUECFA6d_cLM3UX3u4WjqNI=/fit-in/960x0/cdccfa7bd8a74da7ba7004ad4f5c3539/2flag-2.png 960w":|~|:imgblclass:--:zpa-mobile-align--center zpa-align--center ba-11709258:|~|:img2blclass:--:zpa-mobile-align--center zpa-align--center ba-11709282:|~|:img2attr:--:alt="" src="https://cdn05.zipify.com/6KT3ieKdKv0oY-Q_GJdTrjWO77E=/c4cbd859d90349908d9b96a3a73e3c8a/best_price_footer.jpg":|~|:handle:--:1x-dual-sided-thick-super-soft-usa-flag-blanket:|~|:dcrt2class:--:ba-11709293:|~|:dcrt1class:--:ba-11709274:|~|:crtmsgclass:--:pcma-11709262:|~|:bvuppclass:--:uca-11709275:|~|:bvprcsvclass:--:hidden mat-11709275:|~|:bvcrnrclass:--:hidden lat-11709275:|~|:brd2blclass:--:ba-11709278:|~|:brd1blclass:--:ba-11709279:|~|:addcrtmsg:--:Product has been added to cart
txtcont:--:

MEGA USA Deal Time


:|~|:txtblclass:--:ba-11709268:|~|:ttl5cont:--:
65% OFF Today Only!


:|~|:ttl5blclass:--:ba-11709285:|~|:ttl4cont:--:

$332.97

:|~|:ttl4blclass:--:ba-11709286:|~|:ttl3cont:--:

965.99

:|~|:ttl3blclass:--:ba-11709287:|~|:ttl2cont:--:
6x Dual Sided Thick Super Soft USA Flag Blanket 
:|~|:ttl2blclass:--:ba-11709266:|~|:slctvrnt:--:29423396946019,29423397044323,29423452225635:|~|:shwqty:--:true:|~|:selclass:--::|~|:qty:--:1:|~|:prdurl:--:/cart:|~|:prdimgtp:--:variant:|~|:prdbtnltp:--:cart:|~|:prdbtnelt:--::|~|:prdbtncpt:--:BUY NOW!:|~|:prdbtnclass:--:zpa-button-padding-medium bcss-11709263:|~|:prdbtnalign:--:zpa-button-alignment-center:|~|:prdblclass:--:ba-11709263:|~|:lblvisattr:--::|~|:lbltxtcont:--:BEST VALUE:|~|:lblmdltxt:--::|~|:lblblclass:--:ba-11709270:|~|:imgimgattr:--:alt="" src="https://cdn05.zipify.com/vuS50gX-cvPOGvMTaDfocWD-M7k=/fit-in/960x0/cf3ae80147b3436182eb8b486d80a3ef/screen-shot-2019-05-27-at-2-27-20-am.png" sizes="960px,830px,720px,590px,450px,220px" srcset="https://cdn05.zipify.com/99UhpoKg12dFUPOAv5-xgRvuYig=/fit-in/220x0/cf3ae80147b3436182eb8b486d80a3ef/screen-shot-2019-05-27-at-2-27-20-am.png 220w, https://cdn05.zipify.com/spPKB0iuQsjjwZw50OjvJc0akMk=/fit-in/450x0/cf3ae80147b3436182eb8b486d80a3ef/screen-shot-2019-05-27-at-2-27-20-am.png 450w, https://cdn05.zipify.com/4cwxIAowJ0aAf_D9Wt8HxeFXXNw=/fit-in/590x0/cf3ae80147b3436182eb8b486d80a3ef/screen-shot-2019-05-27-at-2-27-20-am.png 590w, https://cdn05.zipify.com/I-wFK4nGnshJGxhElBCsAksw4WY=/fit-in/720x0/cf3ae80147b3436182eb8b486d80a3ef/screen-shot-2019-05-27-at-2-27-20-am.png 720w, https://cdn05.zipify.com/h__SwSAB8JkRrqGusn9ZLGyeAr8=/fit-in/830x0/cf3ae80147b3436182eb8b486d80a3ef/screen-shot-2019-05-27-at-2-27-20-am.png 830w, https://cdn05.zipify.com/vuS50gX-cvPOGvMTaDfocWD-M7k=/fit-in/960x0/cf3ae80147b3436182eb8b486d80a3ef/screen-shot-2019-05-27-at-2-27-20-am.png 960w":|~|:imgblclass:--:zpa-mobile-align--center zpa-align--center ba-11709260:|~|:img2blclass:--:zpa-mobile-align--center zpa-align--center ba-11709296:|~|:img2attr:--:alt="" src="https://cdn05.zipify.com/6KT3ieKdKv0oY-Q_GJdTrjWO77E=/c4cbd859d90349908d9b96a3a73e3c8a/best_price_footer.jpg":|~|:handle:--:1x-dual-sided-thick-super-soft-usa-flag-blanket:|~|:dcrt2class:--:ba-11709297:|~|:dcrt1class:--:ba-11709273:|~|:crtmsgclass:--:pcma-11709263:|~|:bvuppclass:--:uca-11709270:|~|:bvprcsvclass:--:mat-11709270:|~|:bvcrnrclass:--:lat-11709270:|~|:brd2blclass:--:ba-11709295:|~|:brd1blclass:--:ba-11709277:|~|:addcrtmsg:--:Product has been added to cart
:|zpendofcontent|: